FOR IMMEDIATE RELEASE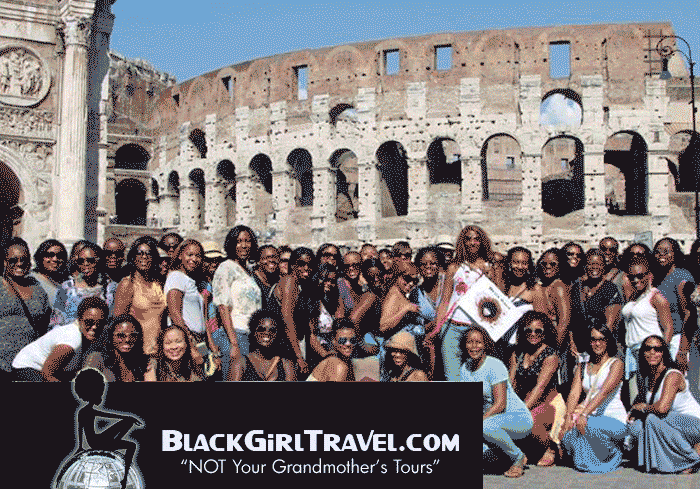 Contact: Ginger Campbell
SNAP Productions
323.933.4155
ginger@snap-productions.com
BELLA ITALIA ANNOUNCES 2009 TOUR SCHEDULE TO TRAVEL WITH A PURPOSE
4th Annual Trip Offers Enhancements for Tour Participants
LOS ANGELES– (December 21, 2008) – BlackGirlTravel.com announced the 4th annual Bella Italia tour itinerary for 2009 today. This unique all female tour, formerly of Blackweekly.com, which alternates between Northern and Southern Italy annually, will tour Rome, Pompeii, Sorrento, Naples, Capri and Sicily from September 2-11, 2009.
The tour was created by Fleace Weaver, founder of Blackweekly.com, the Los Angeles area destination website featuring events and activities for affluent African American consumers. "As a woman who loves to travel and who has traveled extensively, I wanted to expose black women to the world and, conversely, expose the world to the beauty of black women—inside and out," says Weaver. With that goal in mind, she created a tour where a group of women or "Bellas" from all over the USA converge upon Italy to take a comprehensive tour of the country, catching not only the historical sites, but also participating in shopping expeditions, parties and other social gatherings in each city. Each year, the tour has proven more and more successful, growing from 36 to over 50 participants. In fact, the Bella Italia tour is not only popular in the United States, but has also grown in popularity in Italy. "Our all-male guided Vespa tour is one of the most recognizable in Rome," says Weaver. "During the ride we are constantly met with shouts of "Belle Americane" wherever we go."
This year, on the heels of the successful 2008 tour, BlackGirlTravel.com has partnered with Travelista.com co-founder, Andrea Adams, as well as the Italian Government Tourist Board to enhance the experience of the "Bellas". Adams will serve as tour guide for the 2009 trip. Says Weaver, "Andrea brings a rich, cultural understanding to the Bella Italia tour, which in turn will create a more profound knowledge of Italy for the participants. Our association with the Italian Government Tourist Board will open more doors for the types of activities in which our group can participate. My goal is to create unparalleled experiences for this year's tour and to build upon it annually."
In addition to the strategic partnerships, Weaver wanted to instill a sense of social consciousness as part of the Bella Italia 2009. To that end, three percent of the proceeds of the tour will be donated to the Girl's Town of Italy (www.cittadelleragazze.it), an organization that aids underprivileged homeless and hungry children, and orphans of war. "Most of the children come from countries that are politically and economically troubled, while many are subjected to human trafficking, slavery and abuse. The children's stories are heartbreaking" says Weaver. The Bella Italia tour group will make the check presentation while in the country. Weaver believes that giving back will not only benefit Italy, but will also build a strong connection to the country for the Bellas.
The full tour schedule is as follows:
August 28, 2009 – Bon Voyage party – Los Angeles
September 2, 2009 – Depart USA for Italy
September 3, 2008 – Rome
September 6 – Pompeii/Naples/Sorrento
September 7 – Naples/Capri
September 8 – Sicily
September 11 – Depart Italy for USA
For more information on the 2009  Bella Italia tour, pricing and booking, please visit www.blackgirltravel.com/tours/BellaItalia2009.html or call 323.252.1779. Additionally, the website offers photos, video, and stories from previous tours.
About BlackGirlTravel.com 
BlackGirlTravel.com is a travel club created by and for extraordinary Black women. The goal is simple… to expose Black women to the beauty of the world and the world to the beauty of Black women. BlackGirlTravel.com creates unique customized tours and meeting programs for groups and individuals, designed for young at heart, well-heeled urbanites interested in exploring new lands while indulging in international cuisines, retail therapy, and exciting nightlife. There are no cookie cutter itineraries—each tour is custom designed for the group and its objectives. So, whether you are the seasoned traveler looking for something different or a newbie seeking the security of a group, BlackGirlTravel.com has a tour for you! These are not your grandmother's tours
# # #
Use Facebook to Comment on this Post