Accent was originally opened in Copenhagen in 1997 and started out in a colourful part of, Copenhagen, Nørrebro, on a little side street as an experience – a unique workshop/boutique – appropriately named ACCENT.
Customers found zany painted furniture, exciting lamps, stylish room dividers and other unique home accessories, and interior solutions, all specially created by Claire Requa. Products designed and produced by Claire in her workshop. You were sure to find fashionable ACCENTS for your home, reflecting the latest decorating and interior trends.
The CLAIRELY jewellery line was launched in May 2008 in NY, at the International Contemporary Furniture Fair. The engravings reflect two themes: Chandelier – mirroring the Claire de Lune Chandeliers and Chocolatey, a tapestry of symbols from Ghana, the birthplace of chocolate, which was launched in Chicago, USA, March 2009.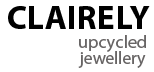 Claire Requa, designer and creative force behind ACCENT which produces mainly lighting products, mirrors and other interior accessories, and has now expanded her product line to include a funky collection of jewellery also made from acrylic which she calls CLAIRELY. This line currently consists of necklaces, rings, bracelets and earrings made primarily of transparent acrylic, and mirror acrylic.
Inspiration for this line of jewellery came from a deep, long-time, personal commitment to the environment regarding the reduction/use of waste material. Production of lamps is carefully and meticulously planned in conjunction with the line of jewellery ensuring that very little material/resource is wasted. Not only are these funky light pieces ornamental, but act as colorful "light catchers casting wonderful shadows on the skin of the wearer. ACCENT products are sold in over 19 countries worldwide.
The pieces are designed and produced in Denmark, with the designer having a close grip on the quality of the products to ensure they are of a high standard.
Visit Claire's websites for more information:
www.accent.dk
www.clairely.dk