Shelly-Ann Fraser-Pryce
Source: ESPN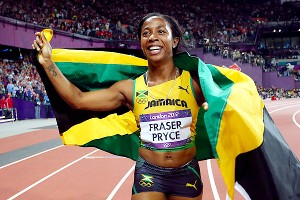 LONDON — Shelly-Ann Fraser-Pryce leaned across the finish line of the women's 100 meters, then looked up at the blank scoreboard for the name of the next Olympic champion.
Five seconds passed, then five more.
Was it the Jamaican, Fraser-Pryce, or the American, Carmelita Jeter?
The race couldn't have been any closer, and when Fraser-Pryce's name finally came up first, she fell to the ground and shouted,
"Thank you, Jesus!"
Allyson Felix
Source: ESPN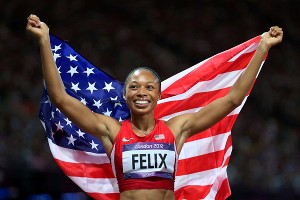 LONDON — No more heartbreak for Allyson Felix. No more silver, either.
Denied twice on the world's biggest stage, Felix won the Olympic gold medal she's been yearning for, taking the 200 meters Wednesday night to fill the last, and biggest, hole in her otherwise stellar resume.
Felix won the race in 21.88 seconds, topping Jamaica's Shelly-Ann Fraser-Pryce, who won the 100 four nights earlier, by .21 seconds. American Carmelita Jeter added bronze to go with her silver in the 100 meters.
"I think it was all for a reason,"
Felix said.
"It kept me motivated and it made this moment very special. It was a big weight being lifted."