Center of Study and Investigation for Decolonial Dialogues
Decolonizing Knowledge and Power:
Postcolonial Studies, Decolonial Horizons
A summer school in Barcelona, Spain
July 17 – July 27, 2017
Decolonizing Knowledge and Power: Postcolonial Studies, Decolonial Horizons
Barcelona, Spain – July 17-27, 2017
Application Deadline: February 1, 2017
The international Summer School, "Decolonizing Knowledge and Power," is an undertaking that aims at enlarging the scope of the conversation (analysis and investigation) of the hidden agenda of modernity (that is, coloniality) in the sphere of knowledge and higher education. This course is offered through the Center of Study and Investigation for Decolonial Dialogues, in Barcelona, Spain. The seminar will be held at the UAB-Universidad Autónoma de Barcelona, Casa de la Convalescencia (Hospital de Sant Pau) .
Affiliated Faculty Members include:
Boaventura de Sousa Santos, Linda Martín Alcoff, Nelson Maldonado-Torres, Ruthie Wilson Gilmore, Emma Pérez, Salman Sayyid, Chela Sandoval,
Ramón Grosfoguel, Houria Bouteldja, Kwame Nimako, Stephen Small,
Sandew Hira, Tiffany Ruby Patterson, Oscar Guardiola-Rivera, James Cohen,
Ella Shohat, Daphne V. Taylor-García, Lars Jensen and Alejandro Vallega
About the Center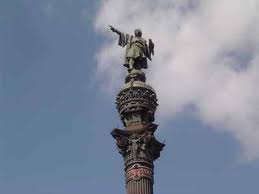 El Mirador de Colón on the Mediterranean Sea in Barcelona
Center of Study and Investigation for Decolonial Dialogues is a non-profit and non-governmental organization promoting research, knowledge-making, education (through seminars, workshops, exhibits, round-tables discussions, publications and video-making) and public policy to invent and work towards non-competitive horizons of life, of socio-economic organization and international relations. Non-profit and non-governmental organizations emerge from within civil and political society to address issues that are not supported or attended to by government and corporations. Their function is crucial in building futures that are beyond the regulations of States or the needs of the Corporations. In order for civil and political society to become relevant actors in social transformation and pointing out the limits of corporate values and state regulation, it is necessary to create institutions of knowledge-making not at the service of the state or corporations, but to the benefit of the civil society.
For further inquiries and information, please send e-mail to decolonialknowledge [at] dialogoglobal.com.
---