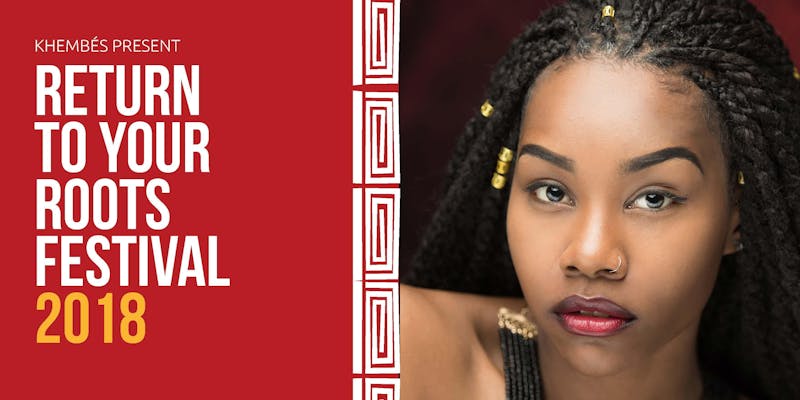 This is a two day cultural festival for those loving all things natural. A weekend of celebration, embracing Natural Hair, Beauty, Health & Wellness.
Day 1 – Saturday 5th – Natural Hair and Beauty
Day 2 – Sunday 6th – Health and Wellness
A family occasion full of positive vibes and high energy. If you missed last year, then you don't want to miss this one!!! Come and share in the celebration, fellowship, and fun at Return To Your Roots Festival 2018.
What can you expect?
A range of speakers and natural hair experts, stalls, open panel discussions, workshops, demonstrations, films, African influenced fashion show and entertainment. You will leave informed, educated, inspired, entertained, uplifted and empowered. Come and join in the journey to naturalness and wellness.
Want to know more about looking after natural hair? Interested in improving your health and wellness. Looking for useful information and guidance on the above? Well, look no further!
Return to Your Roots – Sat 5th May 2018 – Natural Hair & Beauty Focus
Find out all you need to know about natural hair & beauty, experience product demonstrations, get easy maintenance and styling tips.
The day will include workshops, talks, discussions, and information on:
Guest Speaker – Mz Lady Lox – International celebrity loc stylist and educator

Know your hair type and the products to use – K Davis – NYLAH NATURALS

Why does hair matter so much? – The history and politics of our hair

Hair Journeys – Hair stories

Young Girls 'Loving Yourselves Workshop (11-16yrs) – Remani Love

Advice for scalp conditions and thinning hair? – Stephanie Sey, Trichiologist

Loving my hair – Children's session & storytelling – S Richards, Children's Author & Teacher

Daddy do my hair? – Daddy & daughter workshop – C Bennett – Alpha & Omega Salon

Taking our share of the Black Hair & Beauty Industry – Ovi King – Hair Care Revolution

Short Film – A love letter to black women and their hair – Naomi Grant

Panel Discussions – Keeping it real!

Musical performance by Eudina J
Fashion Show – Showcasing great designers
Return to Your Roots – Sun 6th May 2018 – Health & Wellness Focus
Focussing on how to ensure optimum physical and psychological health & wellness
through the use of natural herbs, diet, exercise, and mindfulness. Hear from the best, participate in discussions, get your questions answered and share valuable information with like-minded people and health & wellness experts.
Your diet damaging or nourishing? Achieving Wellness -Mind, body & spirit – Stephen Ssali
Sampling tasty vegan food

Take responsibility for your health, eating your way to better health – Leah Salmon, Naturally You – Author and Coach

God's Healing Foods – Kwame

The benefits of eating Raw – Raw Kay – Vegan Delites

Shining a light on Black men's health – prostate cancer – Vasco Stevenson, Denton Wilson
Anxiety and stress – manage or eliminate it? – Paulette Kumar

Young people and mental health – Suriya Aisha

Alternative therapy – Body M.O.T Biochemical Assessment Workshop – Empress Divine

Sema Kemet Yoga – Shakra

Maintaining Healthy Hair workshop – Design Essentials

Achieving Healthy Locs – Reena – Blaque 2 Natural Salon
Daily – Early Bird ticket £10 + booking fee – available until 28th Feb 2018 (after will be £12, £15 on the door)
Weekender (both days) – Early Bird ticket £18 + booking fee – Available till 28th Feb 2018 (after will rise to £20)
Amazing stalls: Support small and growing businesses ££££
African clothes/fabrics, Jewellery, books, natural hair and beauty products, massage therapy, health and wellness products and much more…
Monday 7th & 8th May 2018
Mz Lady Lox – Locking Master-Class. If you are interested in securing a place you must book prior to the class..
Want to learn locking and loc styling techniques and earn full/part-time income?
Want to improve your locking skills?
Turning away clients requesting loc styles? Why? Just learn the techniques
Want to grow your client base by extending your service offer
More information to follow…..
For more information contact: Khembe Clarke – 07886305842 or email:
VERY IMPORTANT PLEASE READ OUR PRIVACY NOTICE BELOW:
http://www.returntoyourroots.com/privacy-notice.pdf
Organiser: Khembe Clarke
Khembe Clarke has over 35 years' experience as a natural hair stylist now specialising in loc starts and maintenance. She is tapping into Black women's yearning to not only return to 'natural' but to confidently manage and 'rock' their natural hair in whatever shape or form: twist outs, braids, crochet styles, afros, and locs.
Khembe was herself trained by Taliah Waajid fifteen years ago when she came to the UK to deliver her Natural Hair Masterclass. She attended her International Natural Hair Show, in Atlanta, 2015 (the largest of its kind) and witnessed thousands and thousands of women proudly expressing their love for their natural tresses. This inspired her to organise The Return To Your Roots – Natural Hair, beauty, Health & Wellness Festival, giving Black women living the UK the opportunity to openly celebrateand embrace their natural kinks and coils and be proud of what for some has been, a 'head of shame'. Many women are rejecting notions like 'good hair', 'bad hair' and other negative perceptions of natural hair and  are expressing a new found pride and confidence with who they are.
"There's a real movement back to natural," she says. "Women are now realising the immense damage harsh chemically based relaxers, perms and hair products are doing/have done to their hair and scalp.
Our special guest this year is Mz Lady Locs a natural hair educator, all the way from Atlanta USA, specialising in loc installation, maitenance and styling. She will be sharing her knowledge and experience at the Locs Masterclass.
Khembe herself began her journey at the age of 15 creating beautiful natural hair styles for family and friends before starting her hair business at seventeen which quickly blossomed into a thriving business alongside her other business pursuits. Over the past 4 years she has organised a series of hair events entitled 'Return to your Roots,' staged in Birmingham.
The event is scheduled for the 5th & 6th May 2018 and The Locs Masterclass, to be delivered by Mz Lady Lox an exclusive  2 day course is 7th & 8th May 2018.