PRS for Music, in collaboration with PRS Foundation bring to you this special virtual edition of the long-running series PRS Presents, celebrating Black History Month. Hosted by award winning broadcaster and author Gemma Cairney, you will see performances from emerging and established PRS Members, historic and educational elements and organisations highlighted that are around to support the creativity of black music and the songwriting community.
Tune in here on the 22 October from 7pm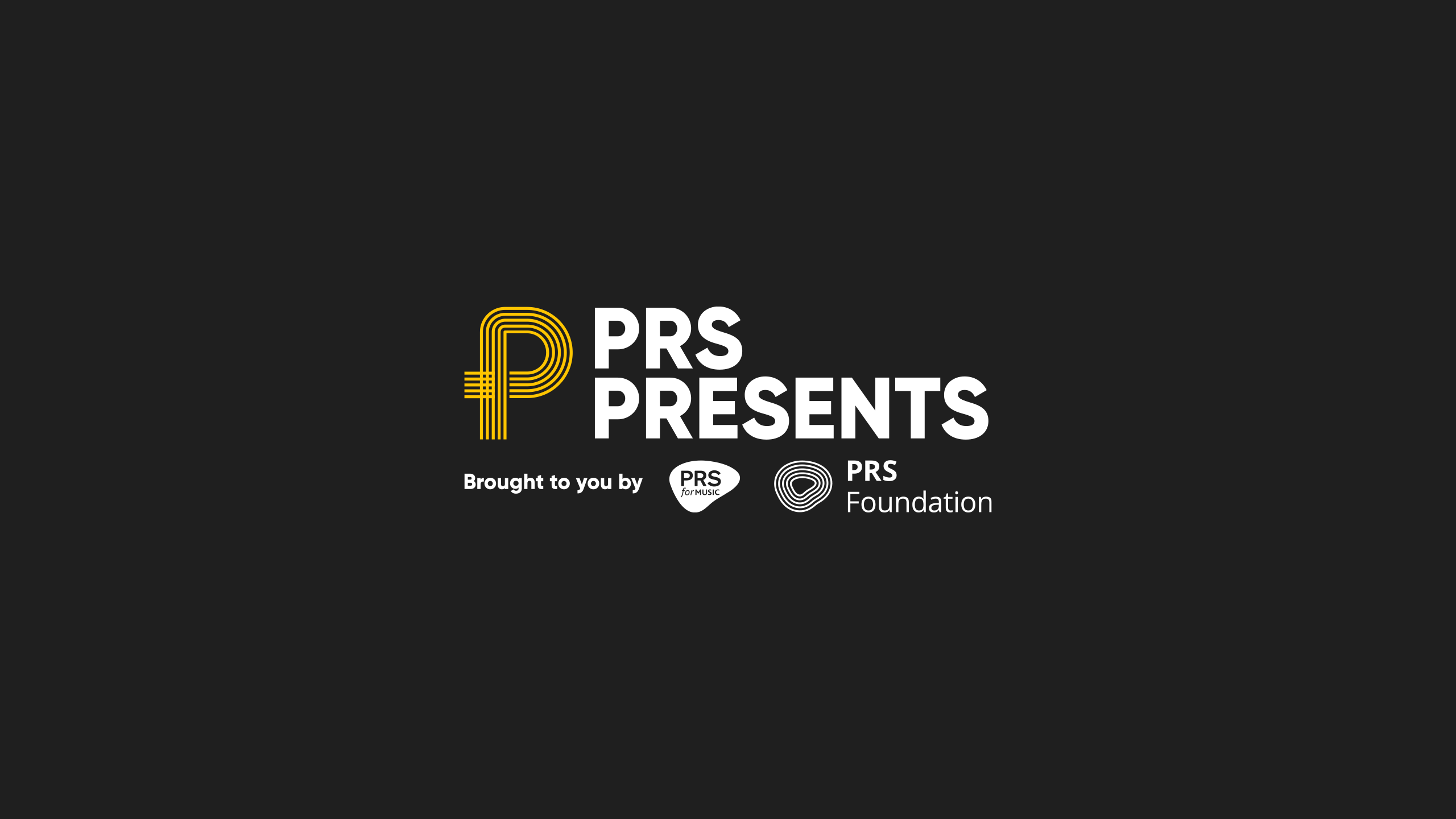 About the artists
Dizzee Rascal
Dizzee Rascal delivers an exclusive performance for PRS Presents with a mixture of classic hits and new. As a multi-talented innovator who's been in the game since his teens, and Mercury-Prize winner for his debut album 'Boy in Da Corner' in 2003 and a multitude of hits throughout his career including collaborations with British and global sensations, Dizzee continues to hold a powerful impact on the UK music scene. The release of his latest album E3 AF coming to you on the 30th October 2020, will bring you the infectious pace of grime and resolutely forward-thinking UK Rap. From one song to the next, you're taken on a journey through Black British excellence with features from MC heavyweights including Kano, D Double E and Frisco, as well as a generation of talent – Dizzee dusted off the bassline rhythms, dubstep wobbles and garage hi-jinks that infuse this seventh album with a nod to his early career.
Frisco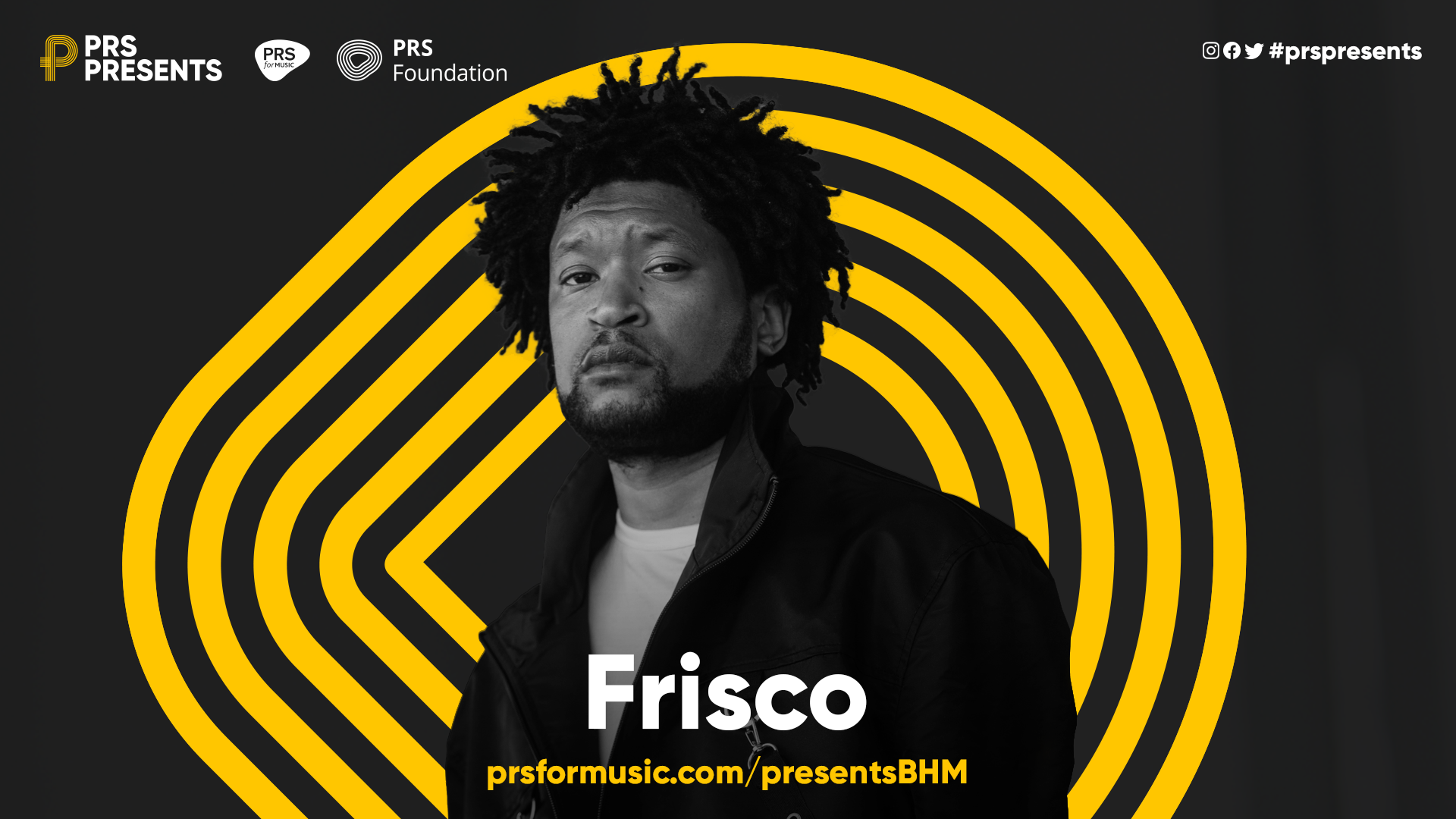 Frisco is one of the rare London MCs who have stood the test of time from the birth of the Grime scene onward. A long-standing member of Boy Better Know, and a consistent lyricist, performer and producer in his own right, Fris has been a deeply influential mainstay within the grime community, and has at this point, he sustained a long and successful musical career in the underground Grime Scene.
Nubya Garcia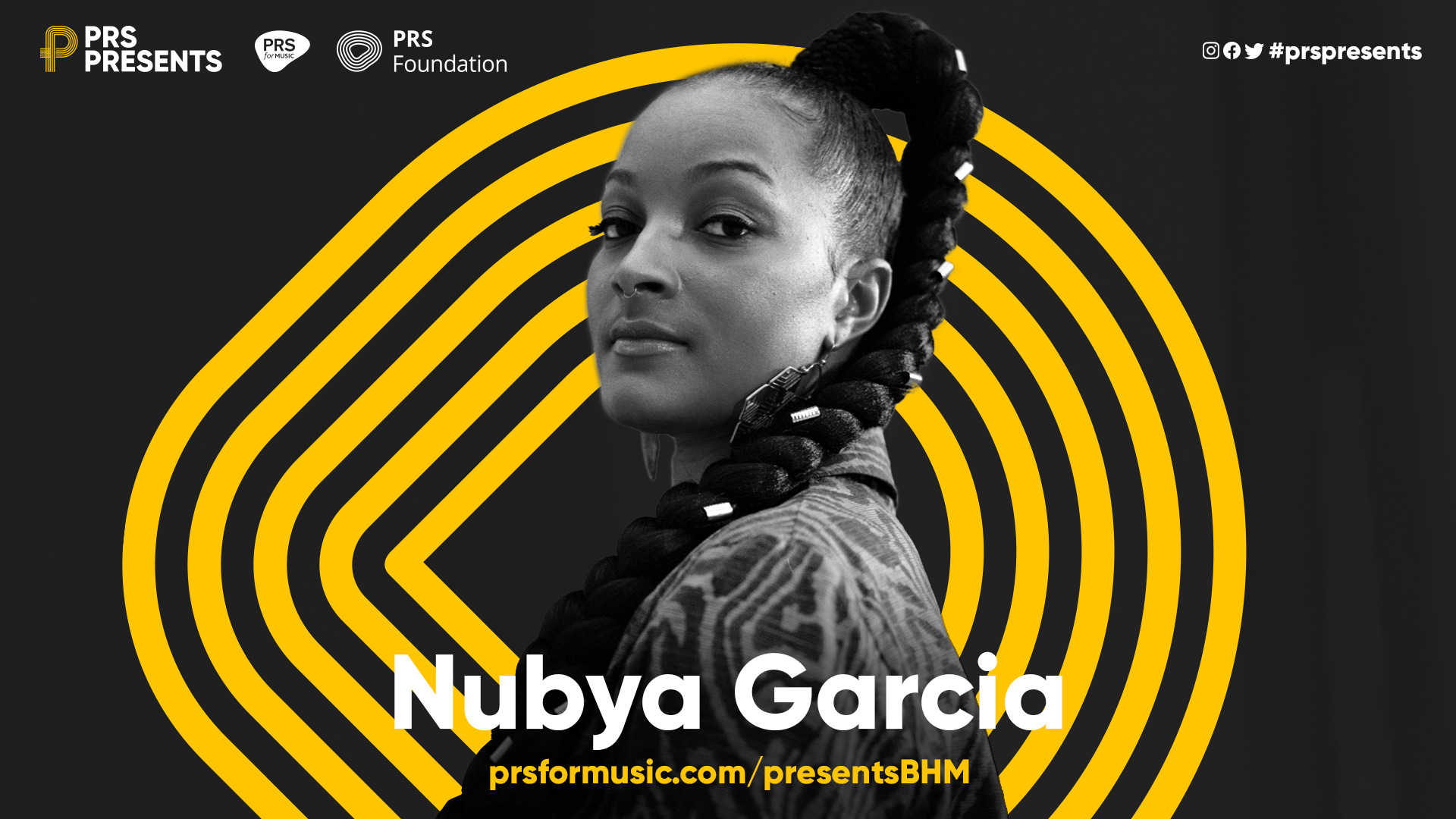 Multi award-winning saxophonist and composer, who has been supported by the PRS Foundation throughout her career, Nubya Garcia, is set to perform two tracks from her latest album SOURCE. Nubya is also a member of the experimental septet, Nerija, and has toured extensively internationally, playing in venues across Latin America, Asia, Europe, Australia, and the United States. Garcia's reputation as a DJ is also burgeoning; she currently helms a hit radio residency on NTS and plays a growing number of live sets across Europe.
Yola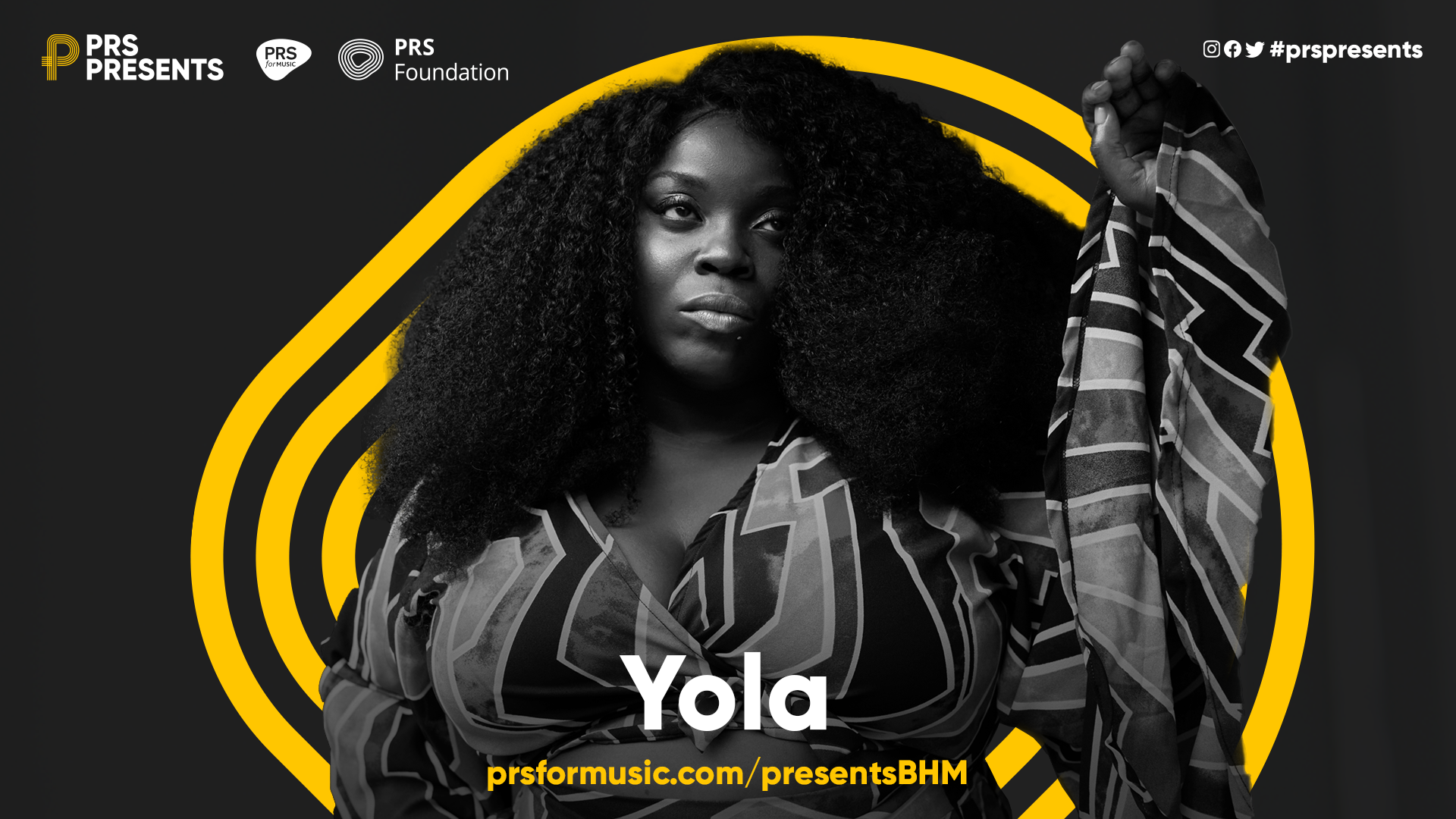 International Showcase Fund grantee and four times Grammy nominated country, soul and roots singer Yola performs a special performance for PRS Presents. Yola has become a fixture in the U.S and has made incredible international success since her debut album 'Walk Through Fire', receiving widespread acclaim from publications including Rolling Stone Magazine who proclaimed her "the Voice of 2019" to The New York Times, who praised her "genre fluid" blending of sounds from "vintage Southern soul" to "early 1960s pop melodramas of the Righteous Brothers and Roy Orbison". Yola has also contributed to a huge number of charitable gigs during the Covid-19 pandemic.
Jelani Blackman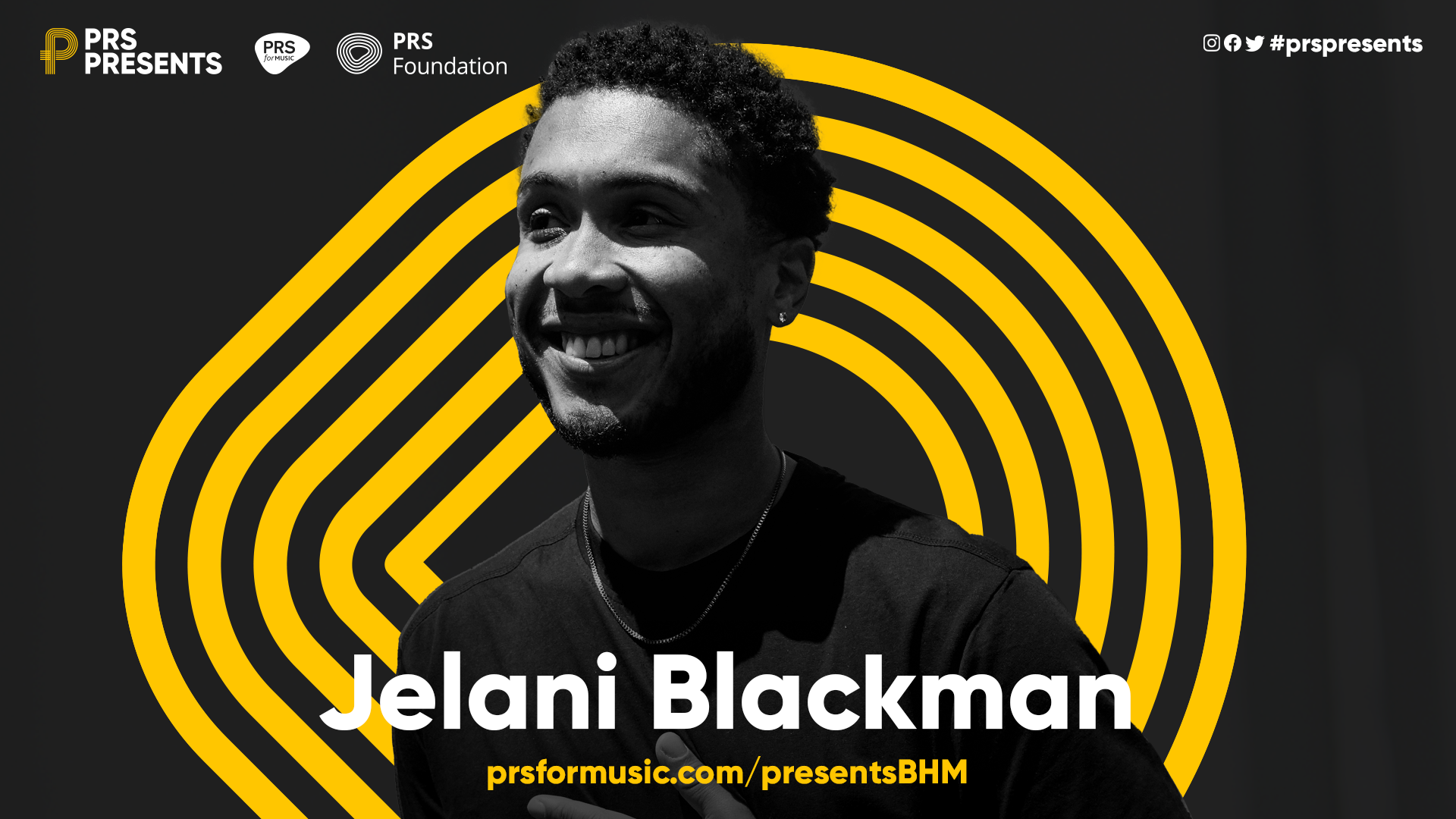 Heavily influenced by R&B and Soul, yet coming up at a time when Grime was everywhere; London rapper and singer Jelani Blackman's sound swerves stereotypes, blending the hard with the soft, the dark with the light; reflected in an impressively diverse rollcall of collaborators that spans from Brian Eno to Burna Boy and Wolf Alice to Big Zuu. Having picked up a lofty list of supporters for 2019's Average Joe EP, including the likes of Annie Mac, DJ Target, Rickie and Melvin, Maya Jama, The Fader, Complex, Dummy, Nick Grimshaw and The Line of Best Fit, things look ready to go to the next level for one of the most exciting and distinctive voices in the UK scene. August saw him release some of his most personal music to date in singles 'Tricky' and 'Hello', both of which he performed on the esteemed COLORS Sessions, racking up over a million views in a month. He was recently announced as featuring on a track with Ghetts for the forthcoming Fraser T Smith album 12 Questions.
Skengdo & AM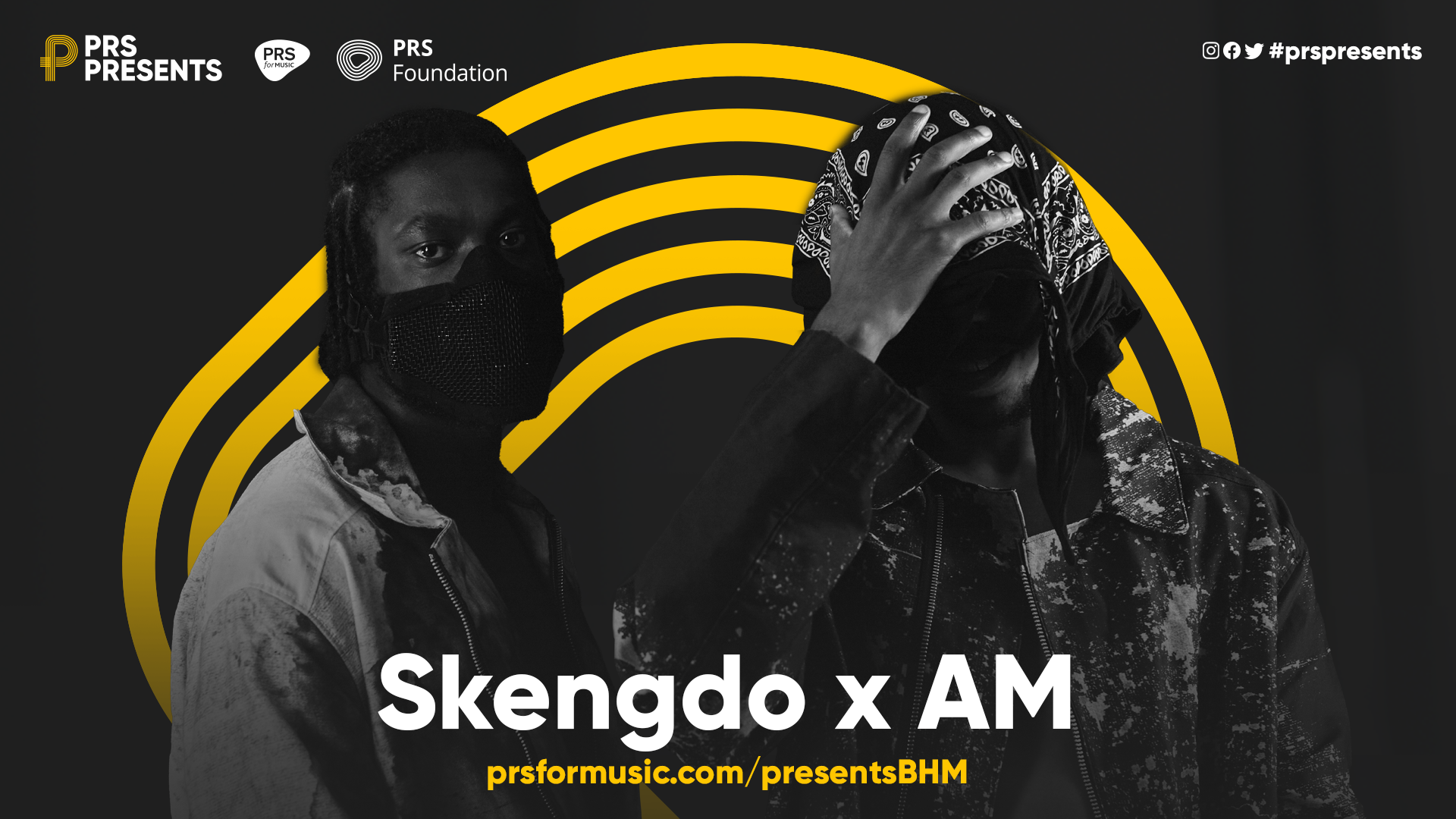 Grantees of the PPL Momentum Fund awarded by PRS Foundation: Skengdo & AM are the pioneering rap duo who have been through a rollercoaster couple of years. The highs have been numerous; selling out multiple UK tours, a triumphant appearance at Reading and Leeds Festivals, crashing into the iTunes hip hop charts at #1 (above Stormzy and Jay-Z) with their debut mixtape 2 Bunny, collaborating with Chief Keef, recording the all-time most watched episode of Mad About Bars (currently on 19m views), speaking in parliament about the power of music, performing in the Saatchi gallery, contributing music to Rapman's forthcoming debut feature film, and amassing over 70m streams by constantly pushing forward the drill sound they have pioneered, playing an integral part in it becoming the most exciting youth sound in Britain.
Lavida Loca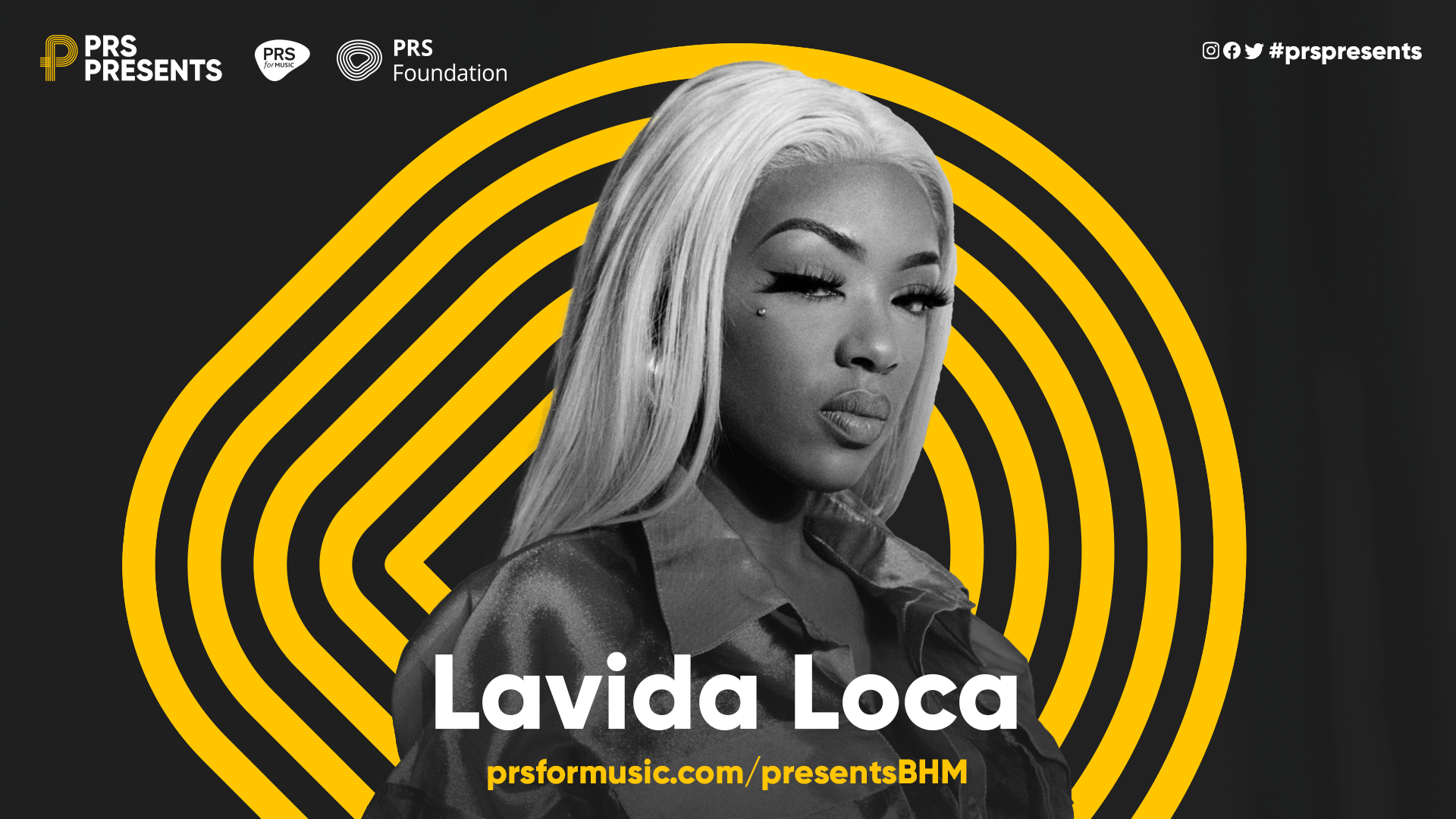 Lavida Loca is a unique force in the UK rap scene. Armed with a potent blend of street rap, the 21-year-old newcomer twists true tales from life on the roads into compelling narratives. With just a few singles to her name, her passionate, raw storytelling has already caught the ear of the likes of Virgil Abloh, Fraser T. Smith and Kenny Allstar, with plenty more soon to come. She is also one of the most recent grantees of the PPL Momentum Fund, awarded by PRS Foundation.
Mysie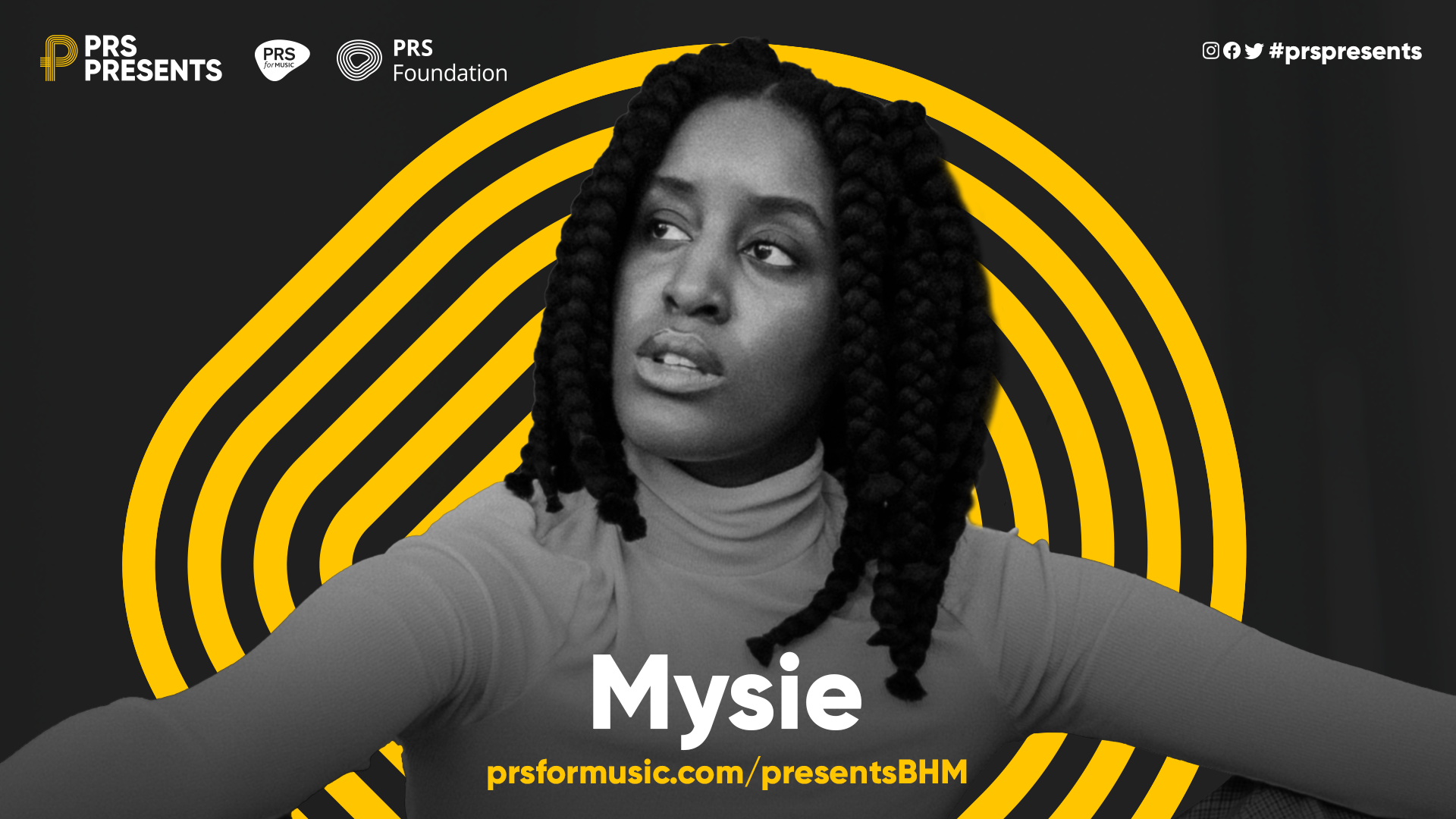 Brought up as the granddaughter of a renowned Ugandan jazz musician, making music from her bedroom in South London Mysie was immersed in a rich music scene before releasing her debut EP in 2019 and earning praise from the likes of Hunger, The Line of Best Fit, Clash, Dork, TMRW, Galdem and The Independent who included her in their top tips for 2020. Recently awarded the Ivor Novello's new Rising Star Award Mysie's been hailed "one of the brightest and most unique voices in British music today" (When The Horn Blows).
About the host
Gemma Cairney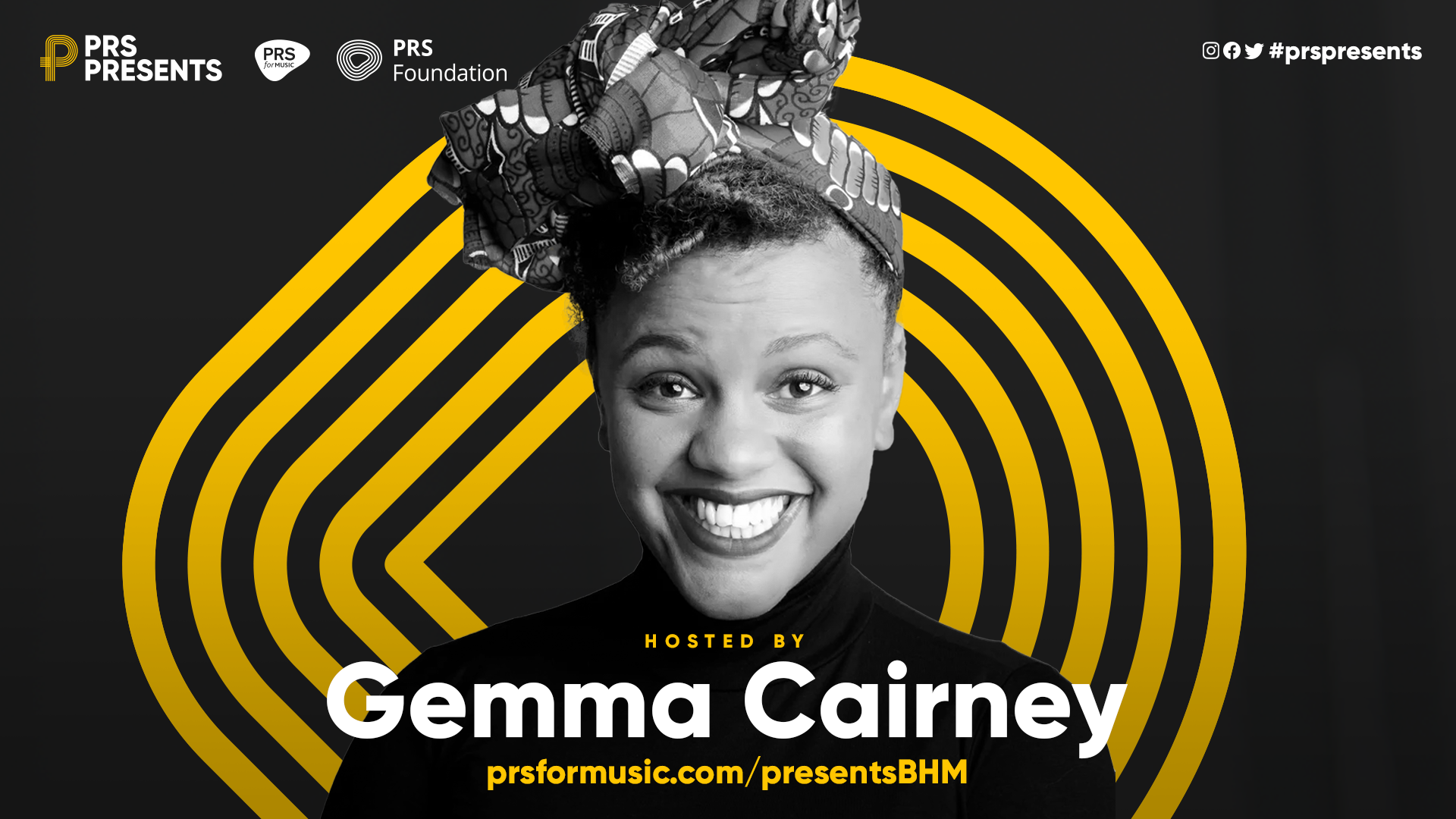 Gemma Cairney is an award-winning broadcaster and author who is passionate about empowering young women.
After attending The Brit School and a brief stint in fashion during her early 20s, Gemma's unique, infectious broadcasting style was swiftly spotted by the BBC. She graduated from BBC's 1Xtra to BBC Radio 1 where she hosted the early Breakfast Show and Weekend Breakfast Show. She then went on to present the station's social action show The Surgery for two years. Gemma's radio documentaries include: Dolly, Dylan or Daft Punk (BBC6 Music), What the F: the Story of Feminism; Never Mind The Cobblers: The Rock 'n' Roll Cobbler, and Mali Music, which saw her travel to Mali to discuss the country's music ban and interview its emerging stars. Tempted by Teacher and Bruising Silence (BBC Radio 1) have seen her awarded two Sony Golds. Her interview of Grace Jones for Amazing Grace (BBC 6 Music) won the Best Music Show Rose d'Or.
Her acclaimed television documentaries include: The History of Feminism (BBC2, BBC Learning), Riots: The Aftershock and Dying for Clear Skin (BBC3). Gemma has presented the BBC's Glastonbury Festival coverage and co-hosted BBC1's New Year's Eve coverage which had more than 12 million viewers. In 2016 Gemma co-hosted the BBC Music Awards on BBC1 alongside Claudia Winkleman and Fearne Cotton.
Feature contributions
The show features contributions from the following: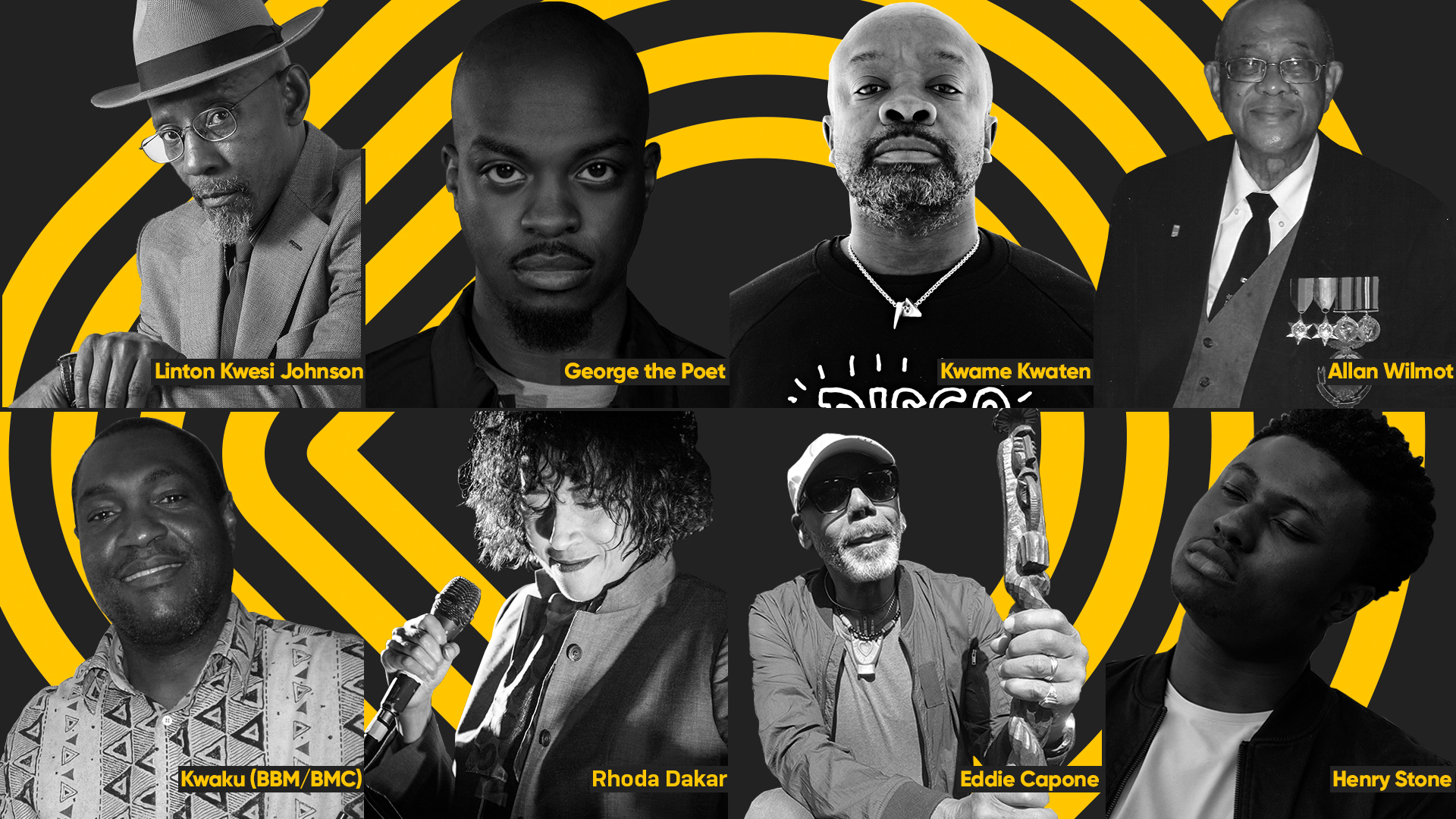 Linton Kwesi Johnson
Linton Kwesi Johnson was born on 24 August 1952 in Chapelton, a small town in the rural parish of Clarendon, Jamaica. He came to London in 1963, went to Tulse Hill secondary school and later studied Sociology at Goldsmiths' College, University of London. Whilst still at school he joined the Black Panthers, helped to organise a poetry workshop within the movement and developed his work with Rasta Love, a group of poets and drummers. Johnson's poems first appeared in the journal Race Today, in1974 where his first poetry collection was published Voices of the Living and the Dead. LKJ, Johnson's own record label, was launched in 1981 with two singles by the Jamaican poet Michael Smith, Mi Cyaan Believe It and Roots. In 2005 Linton Kwesi Johnson was awarded a silver Musgrave medal from the Institute of Jamaica for distinguished eminence in the field of poetry.
George the Poet
George the Poet is a Peabody Award winning London-born spoken word performer of Ugandan heritage. His innovative brand of musical poetry has won him critical acclaim both as a recording artist and social commentator, and has seen his work broadcast to billions of people worldwide. In 2018 George created "Have You Heard George's Podcast?" and in the two years since it has picked up 5 Gold British Podcast Awards, including the highly-coveted Podcast of the Year, Best Podcast at the NME Awards, and Podcast of The Year at the Broadcasting Press Guild Awards. This was followed by a 2019 Peabody Award, making it the first podcast outside of the United States to win this prestigious award.
Kwame Kwaten
Kwame Kwaten, Manager, Musician, Producer -Music industry Consultant – Co-Chair of Brits Diversity Committee – Vice Chair of Music Managers Forum. Kwame Kwaten is currently MD of Ferocious Talent – An Artist Services Company covering, artist Management, label services , music consultancy, in-house production, which manages acts such as – George Ogilvie , Blue Lab Beats – Jodie Abacus – Caitlyn Scarlett – Steve Brown (Laura Mvula/Rumer producer co-writer) Writer-producer Jack Gourlay (Jess Glynne/Tom O'dell/Jack Garrett) The Collier Sarah Walk. Kwame has always made a conscious effort to involve and open doors to young people to get into the music business. He started the Urban Music Seminar and is a co-director of The Ultimate Seminar with Andrea Euell and Nicky Charles for the last 10 years this is a regularly oversubscribed event. The seminar bridges the gap between the classroom and the boardroom, bringing in industry leaders ,managers and heads of labels.
Allan Wilmot
Allan volunteered first for the Royal Navy in 1941 when there was a call for volunteer servicemen from Jamaica. After WWII ended, the British were quick to demob thousands of West Indian servicemen and women. Allan was among them, and having returned to Jamaica in 1946, he felt that it was not the place in which he would settle down, and so he returned to London. Life in London in the Winter of 1947 was not pleasant, but he survived. It soon dawned on him that he could employ his talent in London's show business, and he did so with a degree of success with The Southlanders, a male singing quartet that dominated the entertainment scene from the 1950s to the early 1970s. The Southlanders shared the stage with most of Britain's popular performers, including Jimmy Young, Morecambe& Wise, Vera Lynne, Andrews Sisters, Marty Wilde, Max Bygraves, Tommy Trinder, Petula Clark, Tommy Cooper, Tony Hancock, Bruce Forsyth, Helen Shapiro, David Frost, Norman Vaughan, Shirley Bassey, Tommy Steele, Cliff Richard and the Shadows, to name but a few. Also, The Southlanders' hit records, like I ama Mole and I live in a Hole, were produced at Abbey Road Studios by George Martin whose productions, in the 1960s, made the Beatles' music national and international favourites. After 24 years in the business and with stiff competition from such young talented groups, he realised his days as an entertainer were numbered. He obtained a job in the Post Office Telecommunications Department in 1974, and he retired from the service in 1990. During the two decades that followed, he played an important role in the establishment of the West Indian Ex-Services Association (now the West Indian Association of Service Personnel). Allan continues to serve communities in the UK, and on 16 April 2019 he received the 'Certificate of Recognition' from the Mayor of Lambeth, Councillor Christopher Wellbelove, for his voluntary work in the borough.
Kwaku BBM/BMC
Kwaku is a music industry and history consultant. He holds an MA Music Business Management, MA Media and LLM Entertainment Law. Formerly an active journalist, he was a columnist on Billboard, DJmag, and Gargamel/Gmag; a contributor to Touch, Hip-Hop Connection, New African, Drum and BBC Radio London. He's taught music industry courses at University of Westminster, City University of London, City and Islington College, Haringey Arts/Collage Arts, and Portobello Business Centre; guest lectured at LIPA (Liverpool Institute for Performing Arts) and University of Hertfordshire. A qualified NVQ assessor, he's the lead tutor on BTWSC's unaccredited and OCN accredited Music Industry Overview course, and BBM/BMC's bi-annual Making Sense Of How The Music Industry Works course. He's the founder of BBM/BMC (BritishBlackMusic.com/Black Music Congress); and co-ordinator of RE:IMI (Race Equality: In Music Industry) and Samuel Coleridge-Taylor 100PM Collective. Kwaku will take us through the story of Samuel Coleridge-Taylor and the impact he had on the foundations and curation of the Performing Right Society.
Rhoda Dakar
Rhoda Dakar began her musical career as lead vocalist with all female 2Tone band, The Bodysnatchers. She went on to record with The Specials and Madness, appearing live with both bands. Rhoda is also a respected DJ and toured last year with The Selecter on their 40 Years Of 2Tone Tour as DJ and special guest, playing in Mexico, USA, Europe and finally the UK. Still breaking new barriers, she completed her first Australian tour in February this year. Still writing and recording, Rhoda recently collaborated with the Dub Pistols on a track about unity, Stand Together. With a US civil rights themed video, it was released coincidentally in June at the height of the Black Lives Matter worldwide protests. During lockdown, Rhoda finally got round to making the radio show she had promised for so long. Called Pork Pie & Mash Up it appears on Acid Jazz' Totally Wired Radio on the first Monday of the month and thereafter on Mixcloud. A mash up of music from her eclectic taste together with an interview, it is proving very popular.
Eddie Capone
Eddie Capone is a British songwriter and longstanding PRS Member, who has worked with producers, such as Trevor Vallis, Biddu Geoff Haslem and such Bands as The Foundations, The Elgins, Arthur Brown's Kingdom Come, Arthur Lee and Love, Chairman of the Board, Billy Preston, Edwin Starr, The Upsetters, which later became the Wailers with Bob Marley, also Casablanca was one of the first bands to be signed to Elton John's Rocket Label. He has also jammed with Herbie Hancock who had a profound effect on his music and life. Eddie has released several albums and singles over the years, with a new single Trickle down due to release for Black History Month via his label and publishing company Treatment Music est.1982.
Eddie is also the founder of 3G Treatment. This organisation was established in 2014, bringing together three generations of talent. The very first album from 3G Treatment, Evolution is a concept project that will take you into many different genres of music. The album features young up and coming producer S.B.O and has already had two single releases from it, 'Triple D featuring -INDIGOOCHILD' and 'Everyday life- Eddie Capone'. 3G Treatment aims, to connect people of all generations to celebrate their unique talents and to produce music that everyone can enjoy and relate to, working closely with the local community to build positive relationships and provide an alternative focus. Eddie joins us and contributes to this show by producing a segment around the Windrush generation – including interviews with Linton Kwesi Johnson and Allan Wilmot.
Henry Stone
Henry Stone is a recording artist, writer and content creator from South London. He began writing in 2015 and has since worked with the BBC, Barbican Theatre, George the Poet and was nominated for the 2019 Outspoken London Poetry Prize. Using lyricism, music and poetry, his work touches on issues which defined him ranging from inner-city London, estate politics, mental illness, generational poverty, and growing up as a millennial Londoner.
"Henry Stone, a very talented poet. You're gonna be seeing a lot more of him." – George the Poet
"The crowd is always mesmerised by Henry's beautifully crafted poems about gritty subjects." – Sofar Sounds
With special contributions from organisations: the PRS Member's Fund, People Dem Collective and Small Green Shoots.
Organisations
Organisations around to support the creation of black music and the songwriting community.